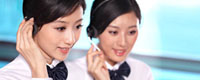 E-mail: transworldhk@live.cn
E-mail: info@hktransworld.com
Add: CD831, TREND CENTRE, 29-31 CHEUNG LEE ST. CHAI WAN, HONG KONG
Skype: hktransworld
MSN: transworldhk@live.cn





Product name : DVB TS Scrambler

Product No. : TSCR-TS
Details:
TS Stand alone DVB TS Scrambler aims to DVB simulcrypt scrambling on input transport
streams,
embedded control generator, can send fixed or variable control word scrambling focus on transport
stream; scrambling machine inside synchronous controller send control word and access conditions
and exchange information with ECMG.
Coordination with the CA systems, through the rational control
of scrambling cycles. Scrambling machine aims to facilitate the proper decoder to decrypt control word,
descrambling transport stream. Scrambling machine is a highly integrated device, which is mainly used
in digital television scrambling
Features
Ø 8 Mbytes caches, anti-burst stream;
Ø 63 sets of programs can be scrambled, each program supports 32 elements;
Ø 2 channel inputs, real-time hot backup;
Ø Support EPG data insertion;
Ø Commonly Used DVB Scrambling system description ETR289, Commonly used Scrambling System description;
Ø DVB TS scrambler on specified program or basic transport stream;
Ø Meet the DVB Commonly Used Scrambling Algorithm, support simulcrypt model, compatible with multiple
conditional access (CA) system;
Ø Provide a comprehensive analysis of MPEG stream function;
Ø Provide TS stream PSI / SI information re-processing functions;
Ø Provide input and output ASI transport stream channel protection;
Ø Provide input and output ASI ode stream channel protection;
Ø Support rate adaptive, PCR re-adjustment function and re-marking function;
Ø Support remote real-time monitoring of transport streams;
Ø Support automatically switching on input backup function;
Ø Package format: automatically adapt to 188/204 package format;
Ø Through the network system for status monitoring;
Ø PCR correction.
Specifications
Input

DVB/ASI

2 ASI in

Output

DVB/ASI

2 ASI out

Output bit rate

1-60Mbps

CAS/SMS

Support 4 CAS/SMS

Multiplexer

Delete/change programs

Management

Network RJ-45 10/100M base-T TX

Keyboard, LCD

General Features

Size

40mm*484mm*240mm

Environment

0-45(Operating);-20~80 (Storage)

Power

220VAC(-+10%),50Hz,25W
*Please contact Transworld for more details.