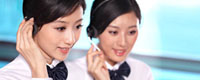 E-mail: transworldhk@live.cn
E-mail: info@hktransworld.com
Add: CD831, TREND CENTRE, 29-31 CHEUNG LEE ST. CHAI WAN, HONG KONG
Skype: hktransworld
MSN: transworldhk@live.cn





Product name : Tuner Multiplexer Scrambler

Product No. : TMST-8T(C/T/S/S2/BTS)
Details:
Tuner/ASI MUX Scrambler(support DVB-S/DVB-S2/DVB-C/DVB-T/ISDB-T) is the latest multiplexing and scrambling device for digital TV broadcasting head-end system. The mux-scrambler 2 groups of ASI output and 2 corresponding IP output (share one gigabit DATA port, RJ45 interface). In conclusion, its high integration and cost effective design make this device widely used in the Next Generation of CATV Broadcasting system.

Features
Ø Fully comply with ISO13818 and EN300468 standard
Ø Integrated multiplexing and scrambling functions
Ø 6 tuner inputs ( tuner can be DVB-S/DVB-S2/DVB-C/DVB-T/ISDB-T)+2 ASI inputs or 8ASI input
Ø Support 2 channels TS re-multiplexing
Ø SPTS and MPTS code stream multiplexing
Ø Supports accurate PCR adjusting
Ø Support PID filtering, re-mapping
Ø Two groups( each group has 2 channels) separate TS output
Ø TS over UDP output as mirrors of ASI outputs(RJ45)
Ø Supports PSI/SI rebuilding, editing
Ø Supports DVB general scrambling system (ETR289), simulcrypt standards ETSI 101 197 and ETSI 103 197
Ø Support 4 different simulcrypt CAS
Ø Supports CAS remote connection scrambling
Ø Supports huge buffer memory and resists unexpected code stream
Ø Supports multiplexing the same program to all the output channels
Ø Alarming function
Ø Supports network remote upgrading
Ø LCD/keyboard and net management, support NMS/SNMP
Specifications
Input

interface

Tuner

6 tuners

(DVB-T/DVB-C/DVB-S/S2/ISDB-T optional)

ASI

2 ASI

8ASI

Re-multiplex

2 channels TS re-multiplex

PID re-mapping ( auto/manual optional)

PCR accurate adjusting

Automatically generating PSI/SI table

Input

Packet format

204/188 self-adaption

Scrambling

Simul-crypt CA

4

Standard

ETR289, ETSI 101 197, ETSI 103 197

Connection

Local/Remote connect

Output port

ASI

2 groups separate outputs

(each group has 2 channels)

IP

TS over UDP output as mirror

of ASI output (RJ45)

PID

Output range

0x0000—0x1FFF

Amount of output PID

per input

64

NMS port

Ethernet port

10/100M

Miscellaneous

Demission(LxWxH)

482mm×410mm×44mm

Weight

4kg

Temperature

0~45℃(operation),-20~80℃(storage)

Power supply

AC 110V±10%,50/60Hz

Or AC 220V±10%,50/60Hz

Consumption

≈18W
*Please contact Transworld for more details.