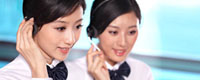 E-mail: transworldhk@live.cn
E-mail: info@hktransworld.com
Add: CD831, TREND CENTRE, 29-31 CHEUNG LEE ST. CHAI WAN, HONG KONG
Skype: hktransworld
MSN: transworldhk@live.cn





Product name : 4in1 IP MUX-SCR QAM Modulator

Product No. : TMOD-IP
Details:
4in1 IP multiplexer scrambler QAM Modulator with is a cost effective integrated IP QAM modulator, scrambler, multiplexer. This device support 32 IP input, IP signal have been send to signal processor after synchronized process. After Scrambling-multiplexing and Modulation of the signal processor, directly be 4RF output with 4 channel DVB-C. Therefore, the device is featured with excellent RF performance index. It supports 32 channel IP inputs. Hence, one PCS 4 in 1 IP QAM Modulator with Scrambler multiplexer can work as 4 stand alone scrambler QAM modulators, significantly reducing the network operators' head-end cost. Also it can support local and remote control to set its working parameters

Features
Ø Meet DVB standard channel coding;
Ø Support full range of variable Symbol Rate and QAM mode;
Ø 8M cache, anti-burst stream;
Ø Data filling function
Ø Configurable PID filter, re-mapping, PSI, SI information synchronization update;
Ø Support NIT table inserts
Ø Real-time transport stream monitoring;
Ø PCR correction;
Ø Fixed or variable frequency output;
Ø Provide RF output monitoring port (-20dB);
Ø Local and remote control
Ø LCD display in Chinese and English, easy and flexible to operate;
Ø High reliability design, stable operation.
Specifications
Modulation Mode

16,32,64,128,256,1024QAM

Symbol Rate

1~7Mbaud/s

Input

IP in

1000mbps ip port(32 ip in)

Output

Transponder1

frequency

Transponder2

Frequency+8mhz

Transponder3

Frequency+16mhz

Transponder4

Frequency+24mhz

Multiplexer

From 32 ip in to 4 QAM channels

Scrambler

Support 4 CAS/SMS ;Head-end implementation of DVB SimulCrypt(ETSI TS 103 197 V1.4.1)

Error-correcting codes

RScode188/204

Input data code rate

1.5~51Mbps

Channel Data Rate

20~56Mbps

MER

>40dB

BER

0

RF Frequency

47MHz~870MHz

Output LEV

85-105dBmV

Output LEV Test port

65-85dBmV

Impedance

75ohm

Output Return Loss

>=12 dB

General Features

Size

44mm*482*410mm

Environment

0 ~ 45(Operating);-20 ~ 80(Storage)

Power

100-240VAC(-+10%),50Hz,25W

Management

Network RJ-45 10/100 M

Keypad+ LCD
*Please contact Transworld for more details.