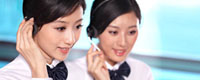 E-mail: transworldhk@live.cn
E-mail: info@hktransworld.com
Add: CD831, TREND CENTRE, 29-31 CHEUNG LEE ST. CHAI WAN, HONG KONG
Skype: hktransworld
MSN: transworldhk@live.cn





Product name : 8in1 IP MUX Scrambler QAM Modulator

Product No. : TMD-IPQ8
Details:
8in1 IP MUX Scrambler QAM Modulator Module is the latest generational Mux-scrambling-modulating all-in-one
CATV QAM device. Each IP MUX Scrambler QAM Modulator daughter card combines 8 multiplexing modules,
8 scrambling modules and 8 QAM (DVB-C) modulating modules, which makes it possible that every daughter card
works stand-alone. It supports maximum 256 IP MPTS/SPTS (per daughter card) input through the GE port and
8 adjacent carriers
(
30M~860M
)
output through the two RF output interfaces.
This 8in1 IP MUX Scrambler QAM Modulator Module has adopted slot structure to allow maximum 3 daughter cards
to insert one device simultaneously. To draw a conclusion, its excellent integrated level, powerful performance and
low cost make it adequate for the new generation CATV system.

Features
Ø Dual power supply (option)
Ø 1 GE input, RJ45 interface or SFP
Ø Supports up to 256 channels TS over UDP/RTP, MPTS or SPTS per card
Ø Supports unicast and multicast, supports IGMP v2v3
Ø Max 840Mbps for all input
Ø Supports MPEG2/MPEG-4 re-multiplexing and MPTS/SPTS multiplexing
Ø Supports accurate PCR adjusting
Ø Supports PID filtering, remapping and PSI/SI editing
Ø Supports up to 180 PIDS remapping per channel
Ø Support DVB general scrambling system(ETR289), simulcrypt standards ETSI 101 197 and ETSI 103 197
Ø Support multiplexed or scrambled TS over UDP/RTP output
Ø 8 adjacent QAM carriers output per card, compliant to DVB-C (EN 300 429) and ITU-T J.83 A/B/C
Ø Supports symbol rate 5.0~9.0Msps, 1Ksps stepping
Ø Supports constellation: 16QAM/32QAM/64QAM/128QAM/256QAM
Ø Supports RS (204,188) encoding
Ø RF output frequency range: 30~860Mhz, 1Khz stepping
Ø RF output level: -16~0dbm(per QAM carrier), 0.5db stepping
Ø Excellent RF performance, MER≥40db
Ø Modular design,1U chassis support 3 modules , 4U chassis support 12 modules
Ø Support NMS/SNMP

Specifications
Input

Interface

1GE input, RJ45 interface or SFP

Transport Protocol

TS over UDP/RTP, unicast and multicast, IGMP V2/V3

Transmission Code

Max 840Mbps for all input

MUX

(each card)

Input Channel

256

Output Channel

8

Max PIDs

180 per channel

Functions

PID remapping

PCR accurate adjusting

PSI/SI table automatically generating

Scrambling

Parameters

Max simulscrypt CA

4

Scramble Standard

ETR289, ETSI 101 197, ETSI 103 197

Connection

Local/remote connection

Modulation

Parameters

QAM Channel

8

Modulation Standard

DVB-C(EN300 429), ITU-T J.83A/B/C

Symbol Rate

5.0~9.0Msps, 1ksps stepping

Constellation

16, 32, 64 , 128, 256QAM

FEC

RS(204, 188)

RF Output

Interface

2 F typed output port for 8 carriers, 75Ω impedance

RF Range

30~860MHz, 1kHz stepping

Output Level

-16dBm~0dBm(per QAM carrier), 0.5dB stepping

MER

≥ 40dB

ACLR

-55dBc

System

Network management software (NMS/SNMP)

General

Demission (WxLxH)

630mm×440mm×44.5mm

Weight

9kg

Temperature

0~45℃(operation),-20~80℃(storage)

Power Supply

AC 100V±10%,50/60Hz or AC 220V±10%,50/60Hz

Consumption

15.4W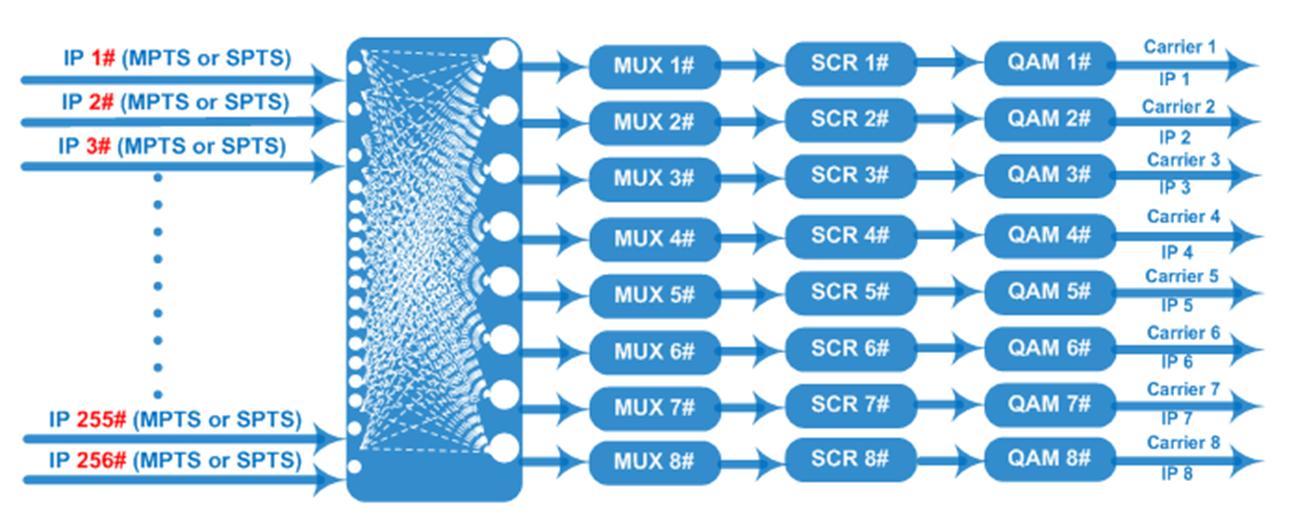 *Please contact Transworld for more details.