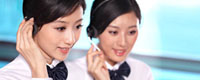 E-mail: transworldhk@live.cn
E-mail: info@hktransworld.com
Add: CD831, TREND CENTRE, 29-31 CHEUNG LEE ST. CHAI WAN, HONG KONG
Skype: hktransworld
MSN: transworldhk@live.cn





Product name : DVB-S2 L-band 8PSK Modulator

Product No. : TMOD-S2L
Details:

DVB-S2 L-band 8PSK Modulator Full Comply with EN302 307 (DVB-S2) and EN300 421(DVB-S)
Descriptions
DVB-S2 L-band 8PSK Modulator which is a high performance modulator is developed according to the Europe satellite
communications system digital video broadcasting second-generation standard DVB-S2 (EN302307), the modulator
standard adopts more advanced channel coding techniques and higher order modulation combination, in the same
conditions it increases more transmission capacity than DVB-S, and can provide a more robust receive ability under the
same spectrum efficiency. The device's RF output is in the L- band, can directly form a complete set with satellite
communication system's digital TV transmitter. And downward compatible DVB-S's (EN300421) all kinds working modes
support local and remote configuration modulation parameters.

Features
l Fully compliant to EN302 307(DVB-S2 Broadcast mode) and EN300 421(DVB-S)
l Supports symbol rate of 1~30Msps(DVB-S2), 1~45Msps(DVB-S)
l Supports FEC rate of 1/2,3/5,2/3,3/4,4/5,5/6,8/9,9/10(DVB-S2), 1/2,2/3,3/4,5/6,7/8(DVB-S)
l 2 ASI Input, supports hot-backup online; DS3 input optional
l Excellent MER performance over 38db
l RF output range of 950~2150Mhz, 1Khz step
l LCD display, keyboard and network management
Specifications
MPEG-TS Input

Support the transport stream packet mode and burst mode

Support 188/204Byte transport stream packets

2 Way ASI input, support hot backup input mode

Input Connector Specifications: BNC Block, impedance 75Ω

RF Output

950-2150MHz continuously adjustable

Level attenuation continuously adjustable (0 ~ 32dB), adjustable stepping 0.5dB

Maximum output level:0dBm

MER≥36dB

Output connector specification: F Block, impedance 50Ω

Modulation and channel coding

Outside the error-correcting code

DVB-S

DVB-S2

RS code

BCH code

Inside the error-correcting code

Convolutional code

LDPC code

Coding rate

1/2,2/3,3/4,5/6,7/8

1/2,3/5,2/3,3/4,4/5,5/6,8/9,9/10

Modulation constellation

QPSK

QPSK,8PSK

Roll-off factor

0.2,0.25,0.35

0.2,0.25,0.35

Symbol Rate

1-45MBauds

1-30MBauds

Working condition

Size

44mm×482mm×410mm

Environment

0~45℃(operating);-20~80℃(storage)

Power

220VAC±10%,50Hz,25W
*Please contact Transworld for more details.