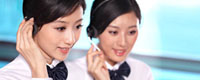 E-mail: transworldhk@live.cn
E-mail: info@hktransworld.com
Add: CD831, TREND CENTRE, 29-31 CHEUNG LEE ST. CHAI WAN, HONG KONG
Skype: hktransworld
MSN: transworldhk@live.cn





Product name : CATV-Satellite Optical Transmitter

Product No. : TT-2G600
Details:
CATV-Satellite Optical Transmitter adopts high linearitycooling DFB laser, directmodulated. Realize the simultaneous transmission of 47-862MHz CATV signal and960~2600MHz satellite direct TV signal in one optical fiber.


CATV-Satellite Optical Transmitter
can use ITU standardwave length and DWDM to realize network upgrade and expansion. Its opticalpower can be amplified by EDFA and YEDFA, achieve large area FTTH. It can becompatible with FTTxPON technology to realize FTTH and the multi-networkintegration of CATV (Analog and Digital TV), Satellite Television (DVB-S) and Internet.
CATV-Satellite Optical Transmitter
adopts 1U 19" standard rack, microprocessor controlsthe working parameters, front panel LCD provides status display and faultdiagnosis. Standard RJ45 communication interface, with SNMP network managementfunction. Built-in perfect laser APC and ATC control circuit to ensure the longworking life and high reliable work of the laser.

SAT-IF adopts high linearity IF driving amplifier circuit with AGCfunction to ensure the high quality transmission of Analog TV, Digital TV(DBS-C, DBS-T) and Satellite TV in one optical fiber.



Product Applications


• One optical fiber transmit CATV and SLDTV
• FTTxPON (EPON, GPON)